Ascend Hiker Socks Review
*This post may have affiliate links, which means I may receive a small commision. At no cost to you, if you make a purchase through a link!
When it comes to hiking, your feet are your most important asset. A functional pair of hiking socks can really be the difference between a good time or a painful time on the trails. But, with so many pairs of socks on the market it can be tricky to figure out what will work for you. If you have been looking for a pair of budget hiking socks the Ascend Hiker socks might work for you. In this article I am reviewing my experience with wearing the Ascend Hiker socks.
Quick Summary: Ascend Hiker Crew Socks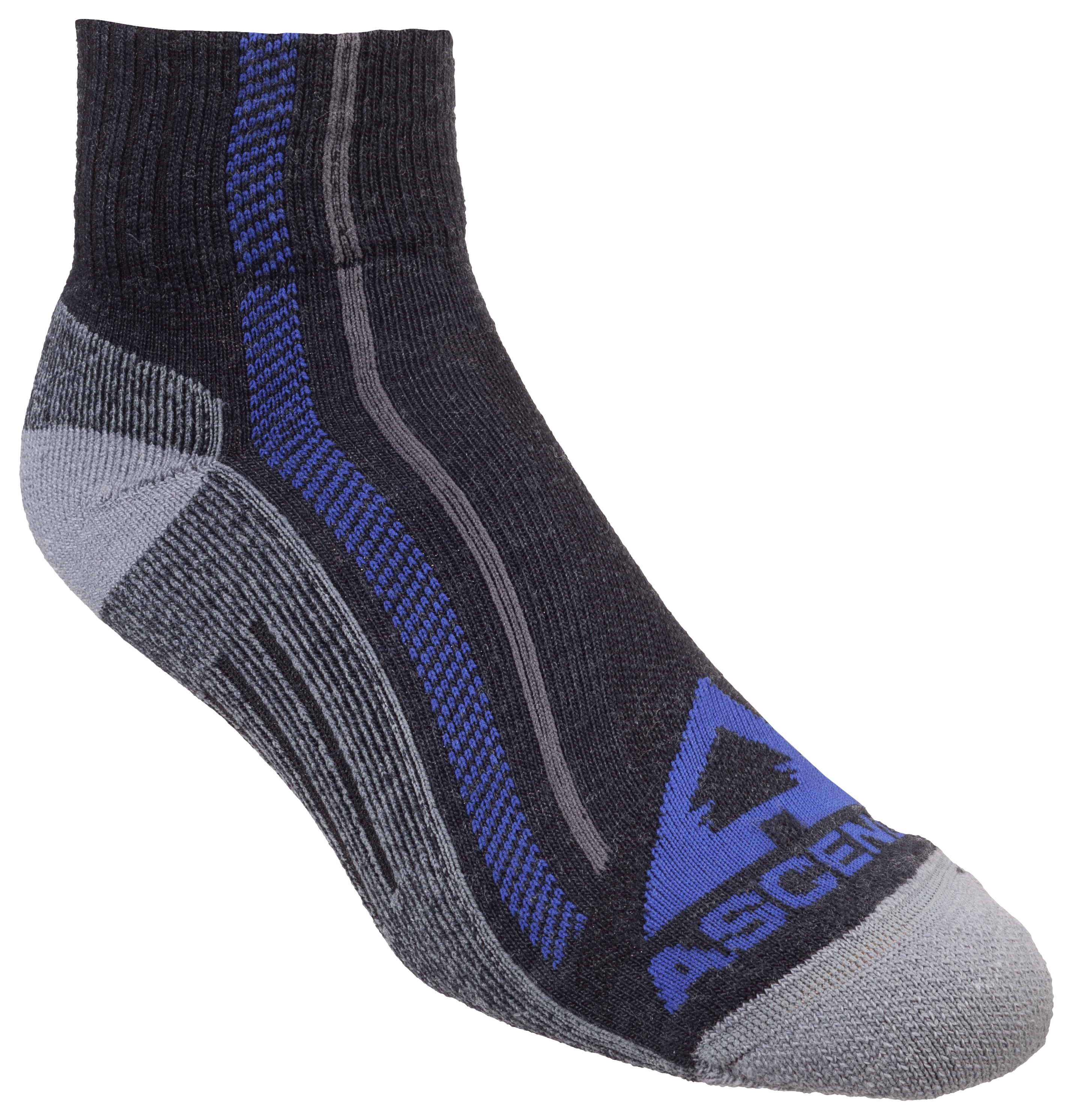 MSRP: $16.99
Fabric: 50% U.S. Merino Wool, 48% Nylon, 2% Lycra Spandex
Pros
Comfortable
Good fit and sizing
Above average durability
Cost
Cons
Average breathability, a little warm in hotter temperatures
Not a lot of variety for colors or styles
Bottom Line
The Ascend Hiker socks are a nice budget version of the more popular Darn Tough socks. They are very comfortable with above average durability and fit pretty well. The cost to performance ratio is surprisingly good for these socks with few complaints. For personal preference I did find the color variations to be kind of boring. Also, when it comes to breathability these socks did feel a little warmer during hotter temps.
Performance: Ascend Hiker Socks
When trying to find the best pair of hiking socks there are a lot of factors to consider. Depending on the season you will want either a lighter more breathable pair or a heavier and warmer pair of pants. Important factors to consider are the comfort, breathability, and wicking ability of the sock to minimize blister formation. Also, the durability of the socks, will it hold up against the elements or fall apart with use.
Comfort & Mobility
When it comes to comfort the Ascend Hiker socks do pretty well and work for all day wear. They are constructed with 50% U.S. Merino Wool, 48% Nylon, 2% Lycra Spandex. Which provides increased comfort, warmth, and cushioning. For a pair of hiking socks that are on the lower side of cost they still perform very well.
The socks wool blend has a soft feel and the socks manage to stay formed to the foot without sagging or falling down on the trails. The padding on the heel and toe of the foot are adequate and provide enough cushion dispersion for those more sensitive areas. Personally found the crew length to be a nice versatile cut that worked for various shoes and mid cut boots. Although they do offer other styles.
Breathability
For a sock with a wool blend this sock does ventilate better than your regular pair of cotton socks. I found that my feet would get a little sweaty and clammy during hotter temperatures during the summer. However in moderate temperatures these socks did excel and performed very comparable to other wool blend socks I have worn. The Ascend Hiker socks did perform fairly well enough to be a great sock for three season wear fall, spring, and summer.
Durability
The one area the Ascend Hiker socks did seem to do above average in was durability. The wool and nylon blend definitely helps these socks last. I have tested these socks on many trail runs and various hiking trips within the last year. These socks have been able to perform on trips from Glacier National Park to hiking in the Ozark Mountains. These socks are able to withstand a lot of use and should last.
Warmth
When it comes to warmth these socks are on the warmer side. The wool blend of materials does an okay job for insulating the feet but has a little difficulty with wicking moisture when wet. These socks do a decent job in cold weather around 30 degrees. But I believe there are better options for colder weather use such as Darn Tough's full cushion socks.
Drying Speed
Drying speed and breathability is an important attribute for hikers especially during any water crossing or rainy days. Being able to really prevent your feet from becoming macerated aka avoiding trench foot, helps to minimize foot softening and blisters. Though this is not super common it does happen with prolonged exposure to moisture.
With the drying test, the Ascend's Hiker socks did fairly well on drying speed out on the trails. It appeared to feel a little swampy during really hot days during the summer but, able to dry in a couple hours when taking off the boots. I did wear these socks during multiple hikes with small creek crossing to really test the drying speed and they stayed pretty damp. But, when left out to air dry it had relatively fast drying time under the sun. This is probably due to its increased makeup of synthetic fibers.
What Other Hiking Socks Should You Consider?
The Ascend hiker sock is a pretty good budget pick when it comes to hiking socks. They for sure would make a versatile three season choice for those looking for a cheaper buy. But when it comes to hiking socks it helps to have multiple pairs for different seasons and conditions.
For my favorite sock overall, I would go with the Darn Tough Light Micro Crew. It is just an all-around amazing performing sock with a lifetime guarantee that makes it hard to beat. For winter I would go with almost any sock with more cushion such as the Darn Tough full cushion sock or the Icebreaker Hike Heavy they are just a lot warmer and more comfortable.
Read this article to check out our top five favorite hiking socks:
Should You Buy The Ascend Hiker Socks?
Overall, the Ascend Hiker sock is a great budget hiking socks that will for sure work well for three season adventures. It is more of the middle of the road performance sock that performs fairly well. Does have a few limitations with breathability and lack of styles/colors. The breathability is average and can get a little warm during late summer. But, otherwise if you are looking for a cheaper hiking sock with performance this one might work well for you.